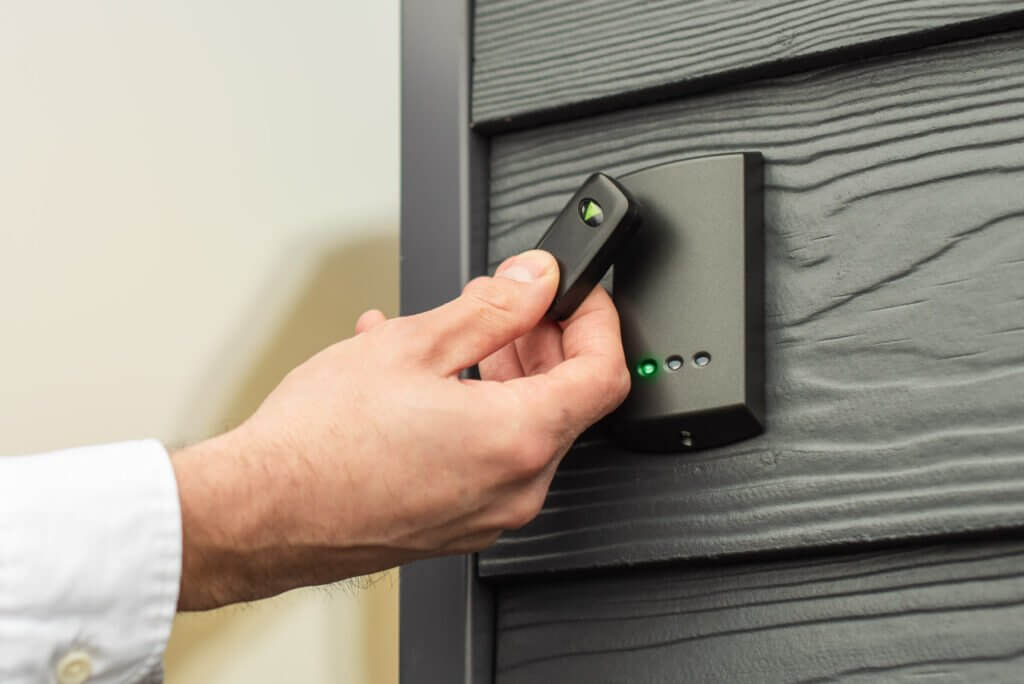 Be in control of who has access to your premises
Smart Systems NI Access Control Systems are designed specifically to suit your business, premises, and insurance requirements. Our wide range of access control & Security Systems can provide your business with a number of advantages. 
We install and maintain various types of Access Control systems which range from one door simple standalone systems, to fully networked systems with remote management across multiple sites
Paxton access control platforms combine a range of components including locks and door hardware, panic devices, door controllers, and software, together creating state-of-the-art, tailor-made wireless access control solutions.
Here at Smart Systems NI, we offer a full range of access control solutions that work for your needs. We can use existing doors and locks to integrate the system. 
Flexibility is essential with access control. For example, do you hold events where access permissions need to change temporarily? Are you looking to avoid entry or exit bottlenecks at times of high traffic? Do you need the flexibility to restrict access not just by location, but also by duration? To combine different levels of security access across the premises?
Choosing a Paxton Access Control System is an important financial decision for most companies. The cost is of course important, but the system also needs to match your needs and be reliable. Here at Smart Systems NI we will conduct a full survey of your premises and recommend based on our years of experience the best cost-effective option for you.

Smart Systems NI provide reliable and cost- effective CCTV Systems across all sectors across Ireland & Northern Ireland.
We offer a wide range of advanced CCTV for your business with professional installation and maintenance.
Benefits of CCTV:
Can reduce insurance premiums 
Safer working environment
Identification of offenders
Increased deterrent   
Remote Monitoring
Prevents Crime 
Smart Systems NI can do a full site survey to understand your needs and requirements.
Please contact us to book a survey.
Intruder Alarms - Don't wait 'til it happens
 A professionally installed alarm system from Smart Systems NI is the best deterrent to unwanted visitors and will give you peace of mind knowing that your business is a secure place for you and your employees.
Alarms can be wired or wireless or a combination of both. When buying an intruder alarm, you must consider what is to happen in the event of an alarm activation. This defines the type of alarm system we supply, there are two types detailed below but you can always upgrade from Type 1 to Type 2.
Type 1. Audible (Bells only):
The alarm sounds at the premises only. The response is reliant on you or a neighbour hearing the alarm siren and taking the appropriate action. Most police forces have a policy whereby they will not attend audible-only alarms unless there is additional evidence to suggest a crime is being committed, in other words they are not likely to attend unless you report perhaps a visual sighting or noises such as glass breaking. By adding a speech or text dialler to your system, you can alert up to 3 key holders to an alarm activation.
Type 2. Monitored:

The alarm sounds at the premises and a signal is sent to an alarm receiving centre via your phone line, mobile network or even by satellite! The receiving centre will contact your nominated key holders. They will also try to filter out false alarms and, in the case of personal attack activation; they will try to contact the premises. A Confirmed Monitored alarm will usually qualify for a police response